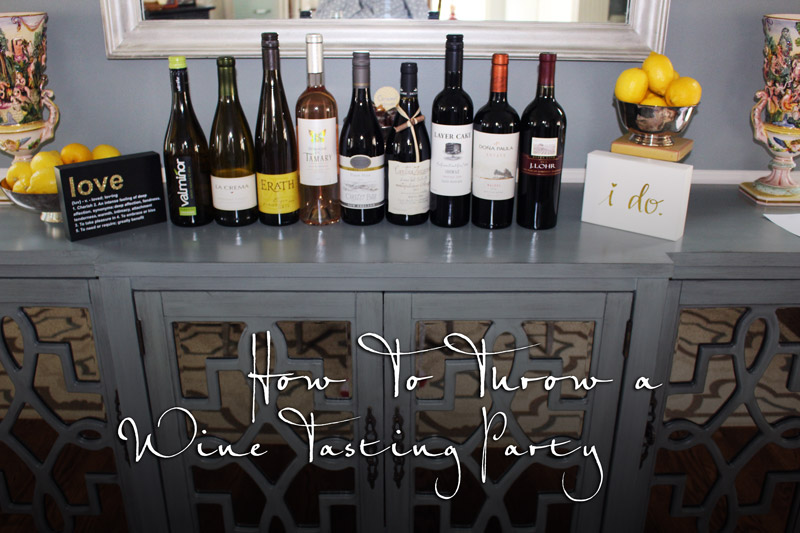 This summer my mini and I hosted a wine tasting party as a Bridal Shower for my dear sweet cousin. It was the perfect combination of fun, laughs and lovely (basically my preference for all parties). It was a sunny and warm June afternoon, but here we are in December and I thought I'd share my tips on throwing a wine tasting party of any sort! Tis the season for fun parties, and all.
For the theme and guest list, mine was obviously for a bridal shower. Turn your wine tasting into a couples night, or a girls night. Make it uniquely yours!
Checklist and Tips
Wine Selection

Once you have your guest count that will help of course with how much wine. In celebration of the bride to be and her world travels, I chose to make it Wines from Around the World. I included 9 varietals ranging from white to reds, each from a different region.

If the thought of that seems overwhelming, most wine shops are happy to help! I went in with a number of bottles, and a budget and the shopkeepers were thrilled to help. If you are throwing a party where everyone brings a wine, just assign each person a type or region to bring


Blind Tasting

I found a set of simple flour sack dish towels, and folded them each to wrap and tie around, disguising the wine label (and removed any label on the neck of the bottle). Using simple paper tags, I hung a number from each one.


Winner Winner

Competition is big in our family, anytime is good for a little competition. I printed off a numbered paper for each guest, including a space for region and varietal. At the bottom, I had listed all of the regions and varietals there were to choose from.


Food

Keep it simple! All of the food was delicious, but finger foods, perfect for pairing with a wine tasting. And cupcakes. Always cupcakes.

Littles

Since my sweet little mini was part of the bridal shower, and a big helper, I had to have something fun for her! We made her very own juice tasting, and she had a sheet detailing each of her choices. Aside from one trick, a cup of water, she was an expert juice taster.
Planning or attending an upcoming bridal party? Check out our wedding section in our online store for personalized gift ideas for the bride!