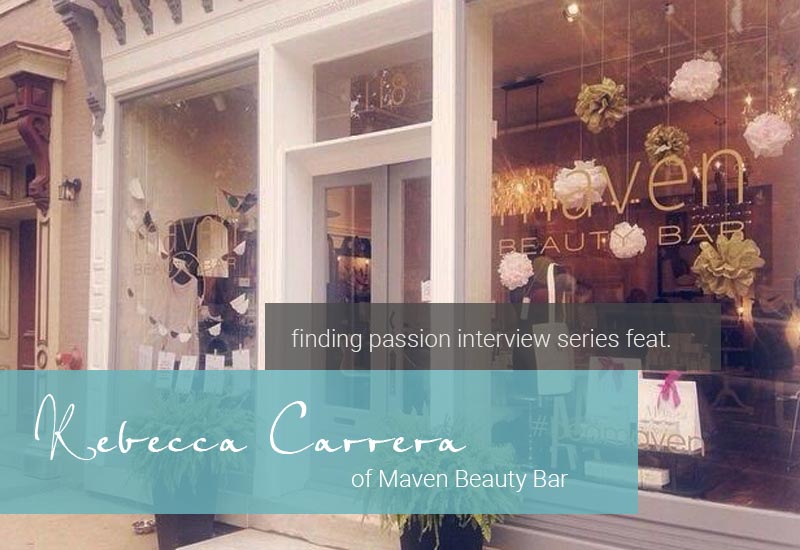 This week we did an interview with Rebecca Carrera of Maven Beauty Bar in Frederick, Maryland. It takes a lot to run a business, but one of the most important ingredients I have found is passion. When you have as much passion as Rebecca, it's no wonder why business is so successful. From road trips in an old VW Bug to 7th grade daydreams flipping through fashion magazines, see what lead up to Rebecca's dream come true of owning a successful business!
You have followed your passion and turned it into a successful business. Tell us about your passion, and how you've incorporated it into your life.

"I've always loved fashion and beauty and have always wanted my own shop, so after growing my career in the corporate beauty world, opening a beauty bar seemed like the next step. I became very aware of product ingredients after having 3 children and so looking for healthier options became a way of life for me that spilled over into the shop. When we opened 4 years ago we had a mix of "green beauty" and your standard beauty lines, but we've since moved away from run of the mill brands and focus solely on natural, organic or toxin free products."

Revisiting your childhood, what did you love to do?

"Long summer days hanging out with my friends, biking to the neighborhood pool and staying out till dark. I loved the road trips with my parents and hot summers driving around town in their vintage red VW Bug."

"They would crank the windows down, turn on some Lionel Ritchie and I'd sit in the back on the vinyl seat with my sweaty legs sticking to it. I don't even think that car had rear seat belts."

Was there a defining moment where you decided to follow what you love?

"Oddly enough I do remember the moment. I was in 7th or 8th grade and a friend and I were sitting in my basement talking and flipping through fashion magazines. Think Cindy Crawford on the front of Vogue and Niki Taylor on the cover of Seventeen. I was obsessed with Niki Taylor, hence my life long dream of being 5'10"!"

"My friend said I think I'll do nails when I grow up and I said I'm going to have my own boutique where I can sell clothing. We then decided we would do it together and she would do nails and I would sell clothes and we would live happily ever after. Well, that never came together for us, but she did go on to do nails and I did go on to own a store, so I guess dreams do come true! Our conversation stuck with me that day and I never forgot throughout the corporate years that I wanted to own my own business."

Do you have people in your industry or out of it that have inspired your path?

"I find so many people around me inspiring for different reasons, so there isn't one particular person in my specific industry. Other Moms inspire me to be a better mother, other business women inspire me to create a better business for myself. If we're talking business I think Jessica Herrin the founder of Stella & Dot and Joanna Gaines from Fixer Upper are just killing it from a brand aspect."

"They've created empires! A long term goal of mine. Now, how to get there? I'm working on it!"

What are your superpowers?

"Oh gosh, superpowers? Isn't just being a mom a superpower? Mothers really don't get the credit they deserve, especially working moms. I've been a stay at home mom and I've been a working mom both corporately and as a business owner, so both sides have their ups and downs, but juggling what comes with full time motherhood and a full time job is a major feat! The planning, the balancing, the forethought that goes into daily life is just staggering!"

Do you create a vision board? Share a little insight on your board: do you update it and visit it often? What are some of your favorites on your board?

"Maybe this will be my inspiration to create one! I have put a few together at different times in my life, but haven't done one recently. I keep all those thoughts and goals in my head and mentally check them off as I achieve them."

Always improving, learning, growing, do you have any new obsessions or learning goals in the year to come?

"My learning goal this year has been to focus on myself more in a personal way. Practicing yoga, maintaining my hair, having my nails done, etc. That probably sounds funny since I'm in the beauty industry, but I'm very low maintenance. Being a wife, mom & business owner sometimes make it tough to do anything for yourself, so it's extra special when I do."
We want to say thank you to Rebecca Carrera for sharing your dreams, inspirations, and memories with us – you are truly an inspiration! Looking for more Maven magic to inspire you? Check out Maven Beauty Bar on Instagram. Want to do an interview with me? Email me at info@erinpelicano.com and you could be featured in our next blog and email newsletter!