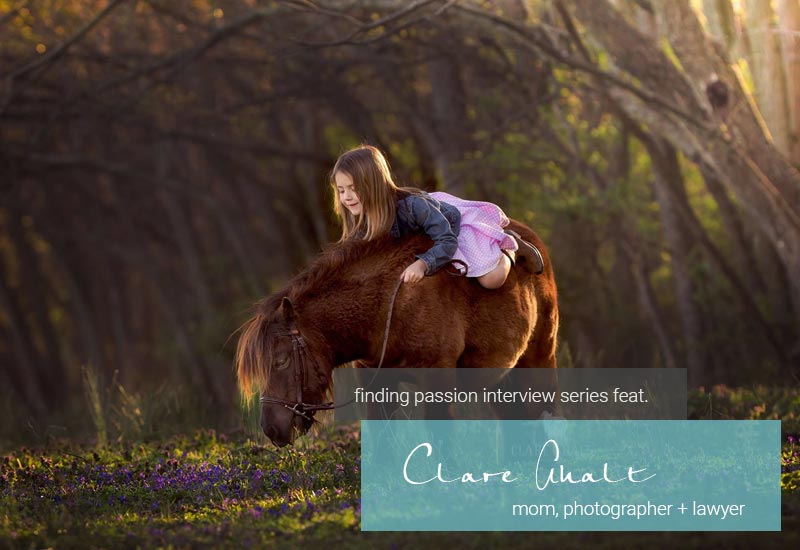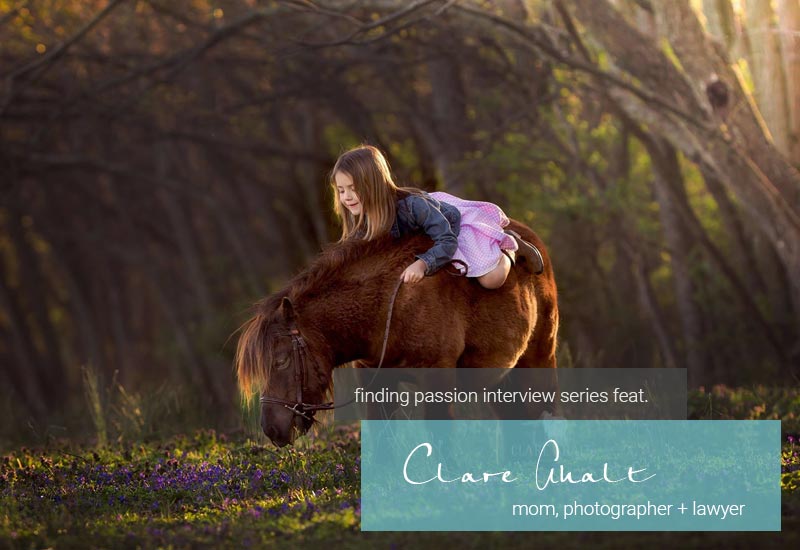 Clare Ahalt is an award winning fine art portrait artist based out of Frederick, Maryland. Talented doesn't even begin to describe her work. But what many people don't see is what goes on behind the camera. As a mom of five, wife, lawyer, horse farm owner, and so much more, life can get a little hectic. But Clare seems to manage it all just fine, allowing time to follow all of her passions in life. Her work is stunning – check it out and see what Clare has to say in her interview with Erin below!
You have followed your passion for photography and turned it into a successful side business, while juggling your career. Tell us about your passion, and how you've incorporated it into your life.

Many people don't realize that I am a lawyer, and continue to work in that capacity. I also help my husband with the business side of his veterinary business and we just opened up a new veterinary hospital, Jefferson Vet, which has been quite an accomplishment and very stressful. We have five children that range in age from 22 years old down to 6 and have a small horse farm with a menagerie of animals from chickens, to pigs, horses, ponies, dogs and cats so I have quite a bit to juggle.

I am originally from England and after my children were born photographs were how my family watched my children grow up. When I visited England, my brother, who studied photography and is an amazing landscape and nature photographer, took much better pictures of my children than I was and a little sibling rivalry found me immersed in the world of photography trying to figure out how to get better (and take better portraits than him). For the business side of photography, I am much better now at maintaining a healthy balance between following my passion and balancing my other responsibilities. I take a very limited number of clients, which has reduced the stress on me substantially and allowed me to continue to love photography.

Revisiting your childhood, what did you love to do?

My brother and I used to play in the forestry commission near our home and we would be out in the woods or on our bikes exploring the English countryside for hours. I think that I am trying to reach back to those days in my outdoor portraits (minus the 1980's clothing and accessories ;) ).

Was there a defining moment where you decided to follow what you love?

I had a number of people ask me around the same time to photograph their children and at that point I knew that I either had to turn them down or turn my love of photography into a business. I opted for the latter, and it has been a work in progress ever since. I strive every day to improve.

Do you have people in your industry or out of it that have inspired your path?

There are many people in the industry that have inspired me – Meg Bitton, Lisa Holloway, Elena Shumilova and I'm supremely fortunate to have taken classes with all of my idols. Stirling Hoffman and Linda Aufenkamp have helped me immeasurably with the business side.

What are your superpowers?

Juggling many things without (yet) having a heart attack.

Do you create a vision board? How do you stay inspired, and focus on your goals?

I go into a session with an idea as to what I want to achieve. I don't do vision boards, I have tried in the past and found that I walk away thinking about all the things that I didn't achieve rather than those that I did. I find that the best portraits that I get are taken when I feel, rather than look if that makes sense.

Do you have any new obsessions or learning goals in the year to come?

I dedicate each year to a new obsession that I mercilessly work on. This year, my goals are in two parts – one part is business and the other part is to further develop my style and refine my editing process.
Check out Clare Ahalt Photography and follow her on Facebook to keep up with her and her incredible work!