Another baby shower to attend and don't know what to buy for a baby shower gift? Erin Pelicano can solve the problem for you, with little effort on your behalf. These delightful Mother and Child jewelry sets are unique from the usual assortment of gift options for a baby shower – a gift any mother would adore receiving! And if you're the soon-to-be-mom planning your baby shower, pick your favorite and add it to your gift registry.
Baby Shower Gifts for New Moms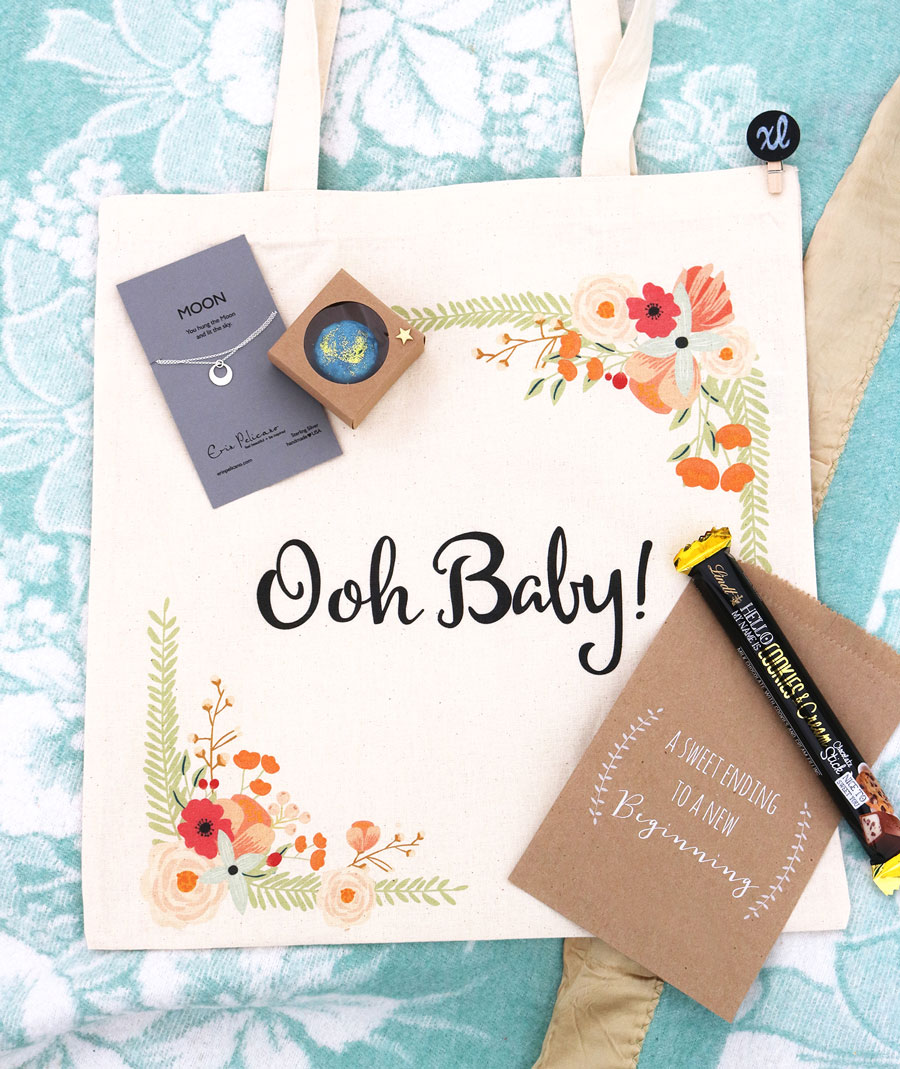 Our Moon Necklace is the perfect gift for any new mom. Beautifully handmade with hammered sterling silver, this crescent moon pendant hangs on a 18" sterling silver chain. Each necklace is one-of-a-kind and affordable for nearly any budget.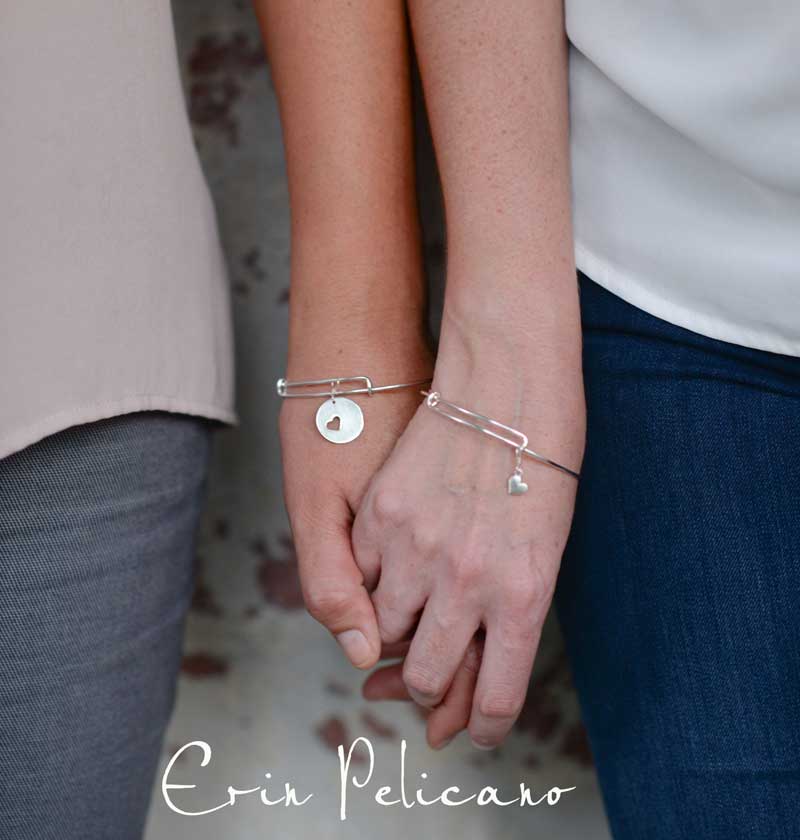 Sold in sets of two, these beautiful selections embody the connection between a mother and her child. The Mother Daughter Bangle Bracelets and Mother Daughter Necklaces are set in sterling silver or gold dipped. The mother's pendant is a hand-cut heart out of a circle of silver or gold, hanging on a delicate beaded chain. Her daughter's chain holds a pendant heart, symbolizing a love that is forever. Make it a little more special with our 14k gold option or our Mother and Daughter Cancer Awareness Set.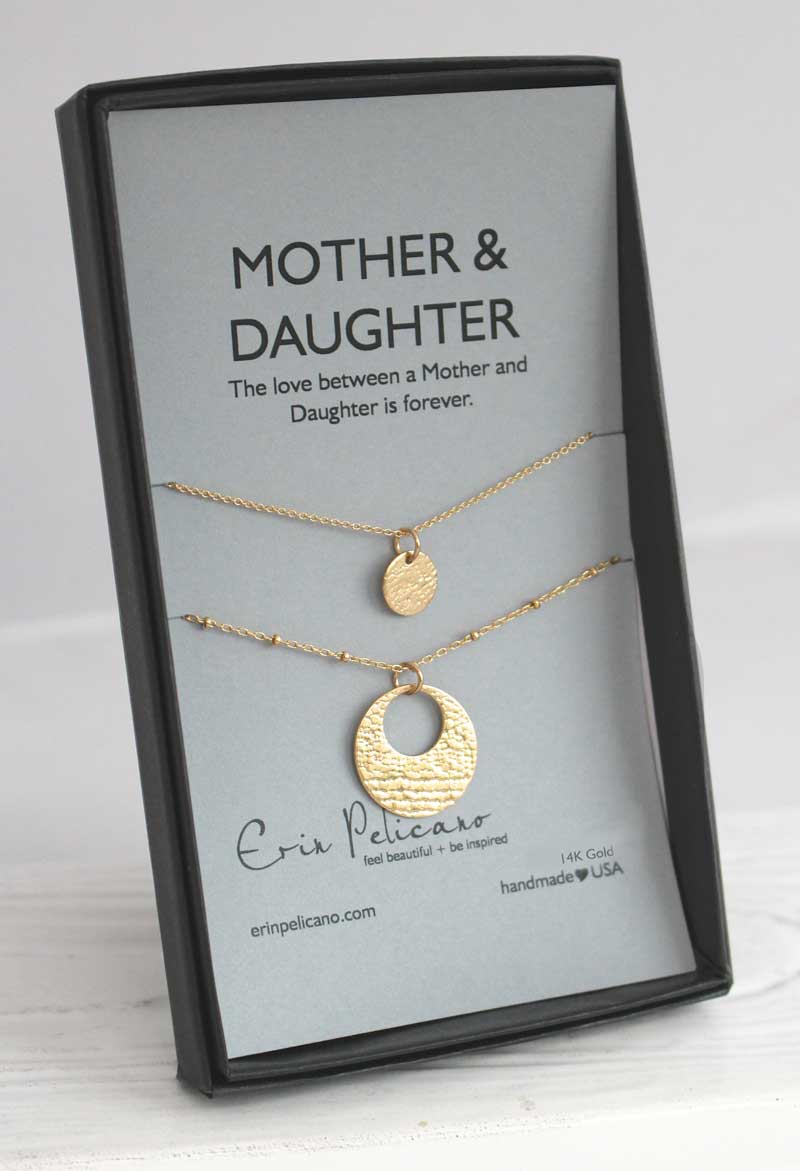 Handmade of 14K gold and set on a beaded or rope style chain, the 14k Gold Mother Daughter Lace Necklace Set includes an adorable pendant embossed with a lace pattern. A circle is cut out of the mother's pendant, an icon of her love for her child. Her daughter's necklace is a simple circle, bonding mother and daughter together always. Also available in gold dipped or sterling silver.
Our Mother & Daughters Bar Necklace Set is new to the collection, giving an alternative to the drop pendant style. The mother's pendant is a hammered bar with a single heart cut out and her daughter's necklace is her heart. Available in rose or yellow gold dipped or sterling silver, both hang on matching 18" beaded chains.
Mother and Son Baby Shower Gift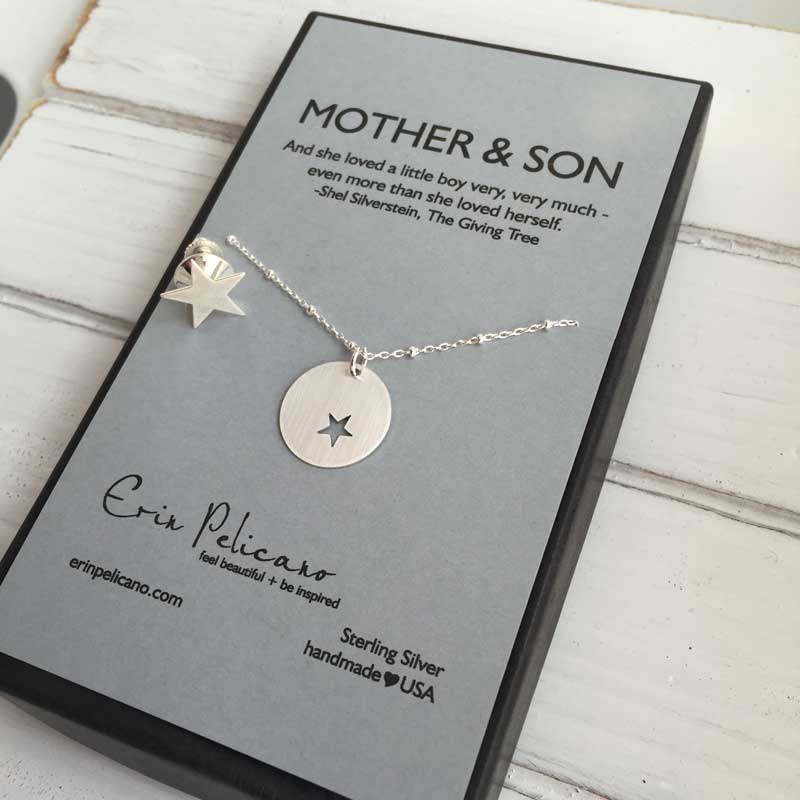 For a mother who is about to have a bouncing baby boy, the Erin Pelicano collection has this covered with the Mother & Son Necklace Set. On the mother's beaded chain hangs a sterling silver sphere with a cut out heart. For her son you can choose a pin or keychain with a corresponding star.
Give a baby shower gift of celebration, rejoicing in the bonds of motherhood about to happen for your loved one. Erin Pelicano's Mother, Daughter and Family Collection has many more options to choose from. Look through and you'll also find a range of options for those who want to remember family bonds, even when you're far apart.