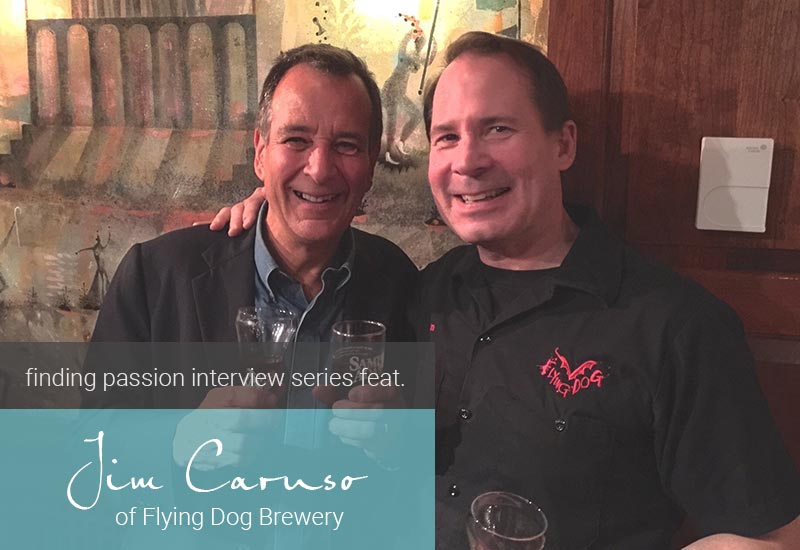 Jim Caruso is a local celebrity in our home town of Frederick, Maryland. As CEO of the biggest craft beer company in Maryland, Flying Dog Brewery, Jim brings a lot of inspiration to the table. We had the honor of interviewing him for our "Finding Passion" series, check it out…
You have followed your passion and turned it into a successful business. Tell us about your passion, and how you've incorporated it into your life.

I am a builder and a grower of businesses who is dedicated to developing leaders by assisting them in putting aside their limiting thoughts and beliefs and freeing them to think big, REALLY BIG!

My grandparents emigrated from Russia through Ellis Island and they carried with them from the "old country" the notion that water was unsafe to drink.

As a result, when I was a young boy I would get a sample of "pivo" (beer) when I visited "Baba and Dedo". I LOVED the taste of beer, particularly the hops in beer.

For the last 20+ years I have been incredibly fortunate to be in the brewery business working with a brilliantly talented team of leaders focused on coming up with ever more creative ways to make your interaction with Flying Dog the BEST part of your day.

Revisiting your childhood, what did you love to do?

I suppose some people might characterize my early years as a "misspent youth" full of foolish and frivolous activities. However, from my perspective, both then and now, it was pure fun with lots of learnings.

I had a blast growing up while at the same time I had some super-cool mentors from whom I learned invaluable street smarts. We hung out at pool halls and bowling alleys, played tackle football with no helmets, raced bikes through treacherous terrain, practiced martial arts, and played poker, gin rummy, and pinochle.

We listened to Enrico Caruso and Frank Sinatra records until they wore out and we never missed an episode of "The Dean Martin Show" or a Frank Sinatra concert. The Italian connections comes from my other grandparents who emigrated from Italy through Ellis Island.

Was there a defining moment where you decided to follow what you love?

Yes. June 21, 1995 at 2:34 p.m. (MDT). I had been serving as president of a publicly-traded company, which is an experience I wouldn't trade for anything, and while contemplating the Universe at the moment of the Summer Solstice I decided to build on all that experience and embrace with every fiber of my being the life of an entrepreneur.

I have never looked back. Ever. Not for a second.

Do you have people in your industry or out of it that have inspired your path?

Yes. Far, far too many to list, but some that come to mind at the moment are:
Seth Godin, author and entrepreneur, and my greatest mentor.

Dr. Richard Bandler, co-founder of NLP who has had more of an influence on me than he'll probably ever know and who taught me life skills that serve me well every single day.
Ralph Steadman, possibly the one TRUE artist in the world, whom I dearly love and admire.

Jim Koch, founder of Boston Beer (Sam Adams), a pioneer who paved the way for the craft beer revolution.
And most of all, I am truly inspired day-in and day-out by Ben, Matt, Kelly, and the entire team at Flying Dog who combine passion, creativity, expertise, resourcefulness, hard work, and fun in ways that never cease to amaze me.
What are your superpowers?
Intuitive Polygraphy, which I have honed to razor sharpness over the course of many, many years!
What is the most impactful piece of advice you were given, that might inspire other folks looking to find and follow their passion?
"The secret to being wrong isn't to avoid being wrong! The secret is being willing to be wrong. The secret is realizing that wrong isn't fatal. If failure is not an option, then neither is success". ~ Seth Godin
Always improving, learning, growing, do you have any new obsessions or learning goals in the year to come?
I am always "succeeding or learning". There is no failure in my world, and every day I'm "learning" more than you could possibly imagine! And I'm continuously obsessed with something.
As for my current obsession, I'm a long-time admirer of Alan Watts and I just purchased all 24 of the books he wrote during his lifetime, along with a selection of his posthumous publications, and I am going to read (or re-read) all of them by the end of the year, re-watch both of his PBS series (from the 1950s and the 1970s), and listen to his recorded lectures. There are some advantages to my being a chronic insomniac.
I don't do goals, they are finite and leave you hanging after you've hit a defined metric. I choose "directions" to move in. Going into 2017, we're moving in the direction of expansion of brewing capacity. We have several options that we are diligently evaluating.
Do you have a passion you'd like to share? Email me at info@erinpelicano.com and you could be featured in our next blog and email newsletter!