Loves List
Summer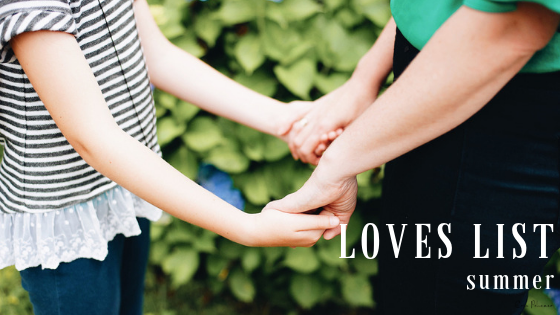 Summertime!! We've been literally soaking in as much summer fun as we can manage.
I put together a list of some of my favorites I'm loving this summer.
Peas
You read that right, ha! My work day lunches I've been making this easy health delicious dish.  Heat olive oil, add some salt + pepper + crushed garlic.  Once the garlic is the perfect brown, I add frozen petite peas until they are perfectly cooked.  Some days I'll add a bit of fresh mint from my yard.  Lunch obsession, yum.
Lists
I already loved lists, I've always loved lists.  Over summer, on my work days where the kids have no camp – they get their very own list! It usually includes cleaning up the endless messes they make, laundry, reading time, instrument time. Oh, and brush teeth, put on deodorant, and make their bed.  Because apparently that's hard to remember.
Podcast
I'm a podcast junkie while working, and the range on my subscribe list is worthy of a laugh.  Mostly inspirational, business, and lots of true crime podcasts.  But my favorite podcast addiction this summer is THE LADY VANISHES.  If you're a podcast listener, it's sooooo good.  One brave Australian woman's real story of searching for her Mom who vanished in 1997, so I feel invested in closure for her.
Sauvignon Blanc
Enough said.
Morning Walks
Usually every summer I try and tap into my former cross country running days, as a quick I'm going to get in shape fix.  It's short lived.  But I also have a torn meniscus that isn't healing.  I started walking every morning, and actually have made it a habit.  It's my favorite way to start my day feeling good, after a hot cup of tea of course.
Flowers in my Garden that I haven't killed
I have a black thumb.  Probably due to divine intervention, there are a few gorgeous plants thriving in my yard! I have no idea why, but I'm loving Hydrangeas.