A Month of Ice Cream Flavors
In celebration of my birthday this year, I enjoyed a different ice cream flavor every day. I'm sharing the deliciousness.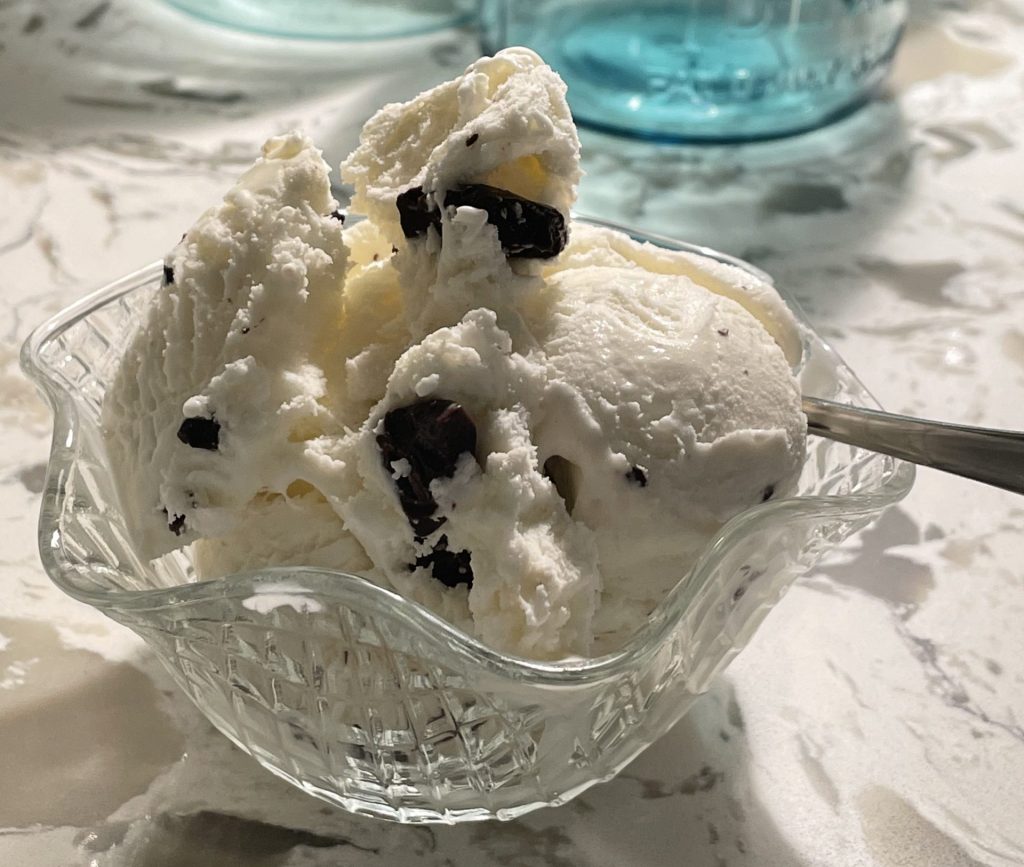 Day 1, Tillamook Mint Chocolate Chip. Mint chip is my absolute favorite, Tillamook is super creamy delicious mint with chocolate chunks that I'd prefer a bit less "chunky".
Day 2, Mocha Coffee Chip from Dickey's at Bethany Beach, Delaware. Perfect mocha flavor, and a nostalgic treat as coffee chip was my daily UMD dorm treat.
Day 3, Lemon Chiffon from Vanderwendes in Delaware. LEMON! I love lemon, if you do a soft rich natural lemon flavor ice cream (not sorbet) is fluffy perfection.
Day 4, Tillamook Oregon Strawberry. The best strawberry ice cream we've ever had. Incredibly creamy with small sweet berries, a new favorite in my house.
Day 5, My first taste of Jeni's fancy ice cream. Jeni's Darkest Chocolate was a dark chocolate dream and not too sweet, paired with Jeni's Brown Butter Almond Brittle. Not usually a fan of nutty ice cream – this is a decadent exception.
Day 6, Bruesters Chocolate Cherry Chip, juicy dark cherries add a delicious texture in the cherry ice cream and perfect chocolate shredded pieces.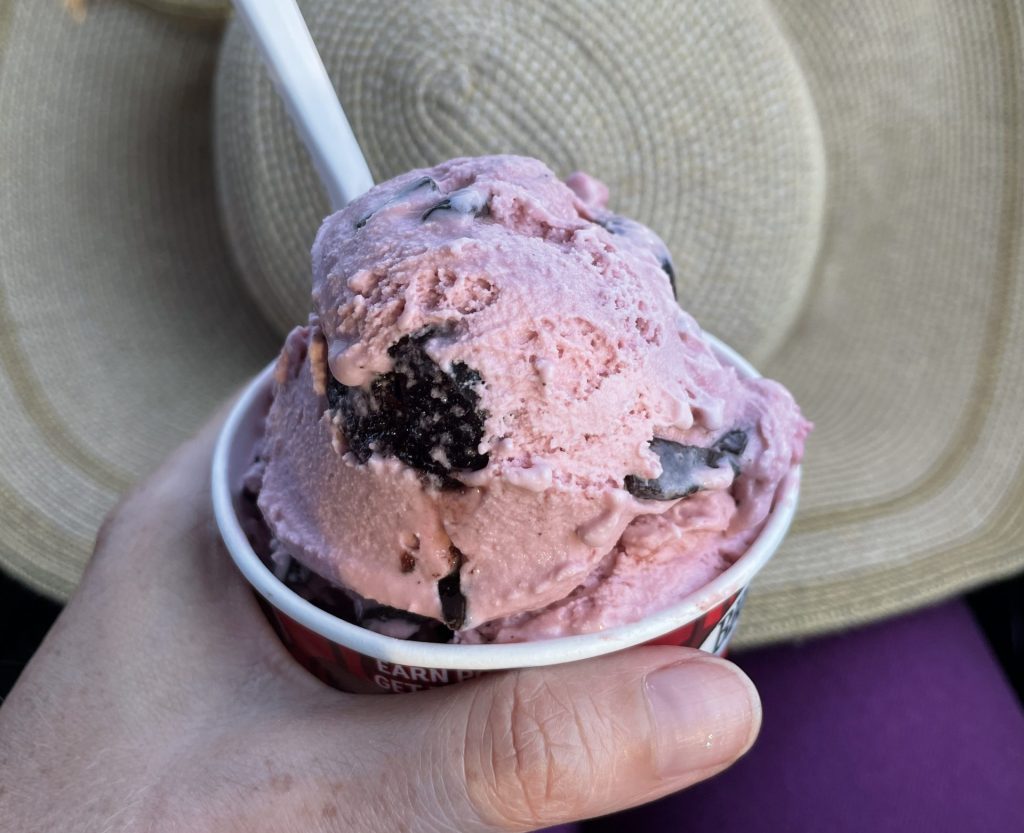 Day 7, Mint Chocolate Chip Milk Shake. I needed a mint chip fix and milk shakes was the perfect solution to a new twist.
Day 8, Jeni's Sweet Biscuit + Peaches, Holy southern love! Summertime I make biscuits and peaches, this ice cream is a treasure with buttery biscuits and sweet peaches.  Summertime.
Day 9, Tillamook Caramel Butter Pecan.  A thick rich caramel makes this butter pecan extra special.  I paired it with a slice of homemade peach pie.
Day 10, Breyers Cinnabon has the decidedly Breyers texture mixed with little pieces of a cinnamon roll and cinnamon swirls.  A crowd pleaser.
Day 11, Spamoni.  When my favorites collide as Italian Ice cream.  Spamoni is a special trio of chocolate, strawberry, and pistachio ice cream covered in a thick chocolate shell. deliziosa.
Day 12, Coffee Almond Fudge.  The thick swirl of fudge makes this a different delicious spin, with the little chunk of almond.
Day 13, Hersheys Blueberry Cheesecake.  If you love cheesecake, you'll love cheesecake ice cream with the little pieces like a treasure found.
Day 14, Banana Puddin. This came highly recommended and I could have eaten two! Local Frederick county Rocky Point creamery is known for this flavor, well worth the drive.
Day 15, Ice cream cake.  A darling local ice cream shop Sweet Babes made my early birthday cake with a vanilla mint ice cream and tiny little chocolate chips.
Day 16, Coffee Toffee from Bruesters. Coffee + Toffee, so good it almost makes me want to drink a cup of coffee!
Day 17, Chocolate Raspberry Swirl from Leopolds.  Dear friends sent me 4 Leopold ice cream flavors to celebrate. Think a rich cholocate ice cream swirled in with a frozen bright raspberry surprise.
Day 18, Leopolds Lemon Custard. Rich creamy with a full refreshing lemon goodness. LOVED it.
Day 19, Leopolds Caramel Swirl.  A perfect traditional vanilla swirled with caramel goodness.
Day 20, Leopolds Banana. Banana ice cream! Who knew.  It's so different and sooooo amazing.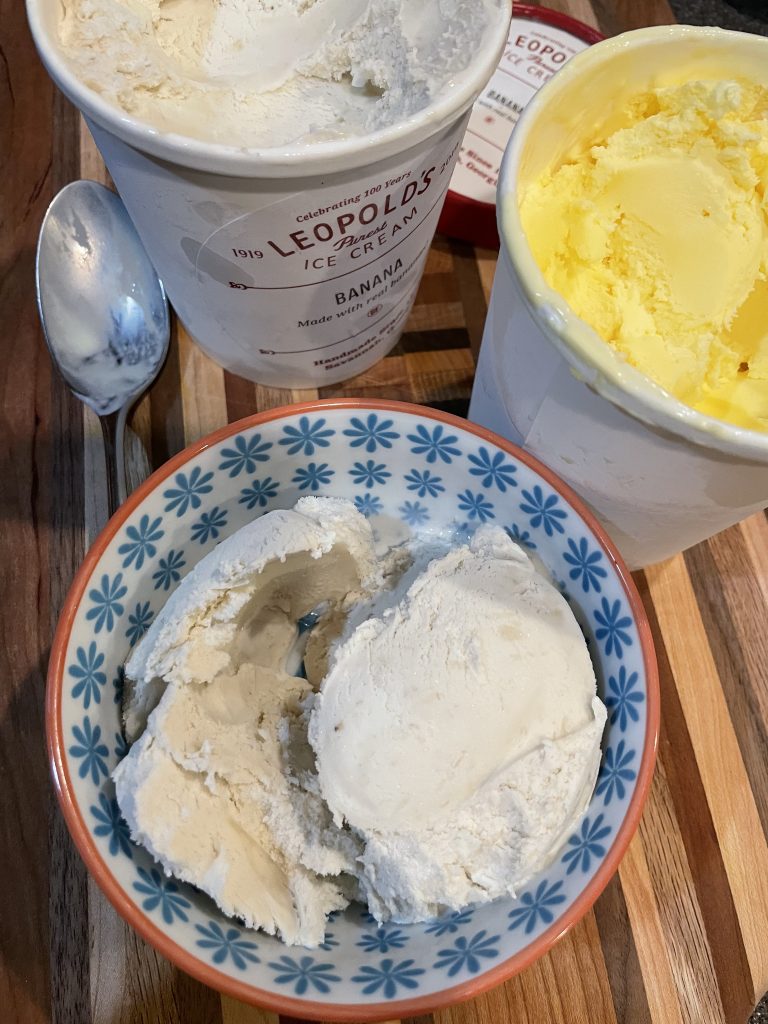 Day 21, Chocolate & Vanilla ice cream cake.  For my birthday a classic chocolate vanilla pairing with the nostalgic chocolate crunchy center.
Day 22, Hershey's Cookie Butter. Visited the Little Red Barn (a local spot) on the hunt for Hershey's Oatmeal Cookie. It is still the best! But cookie butter was an interesting buttery choice.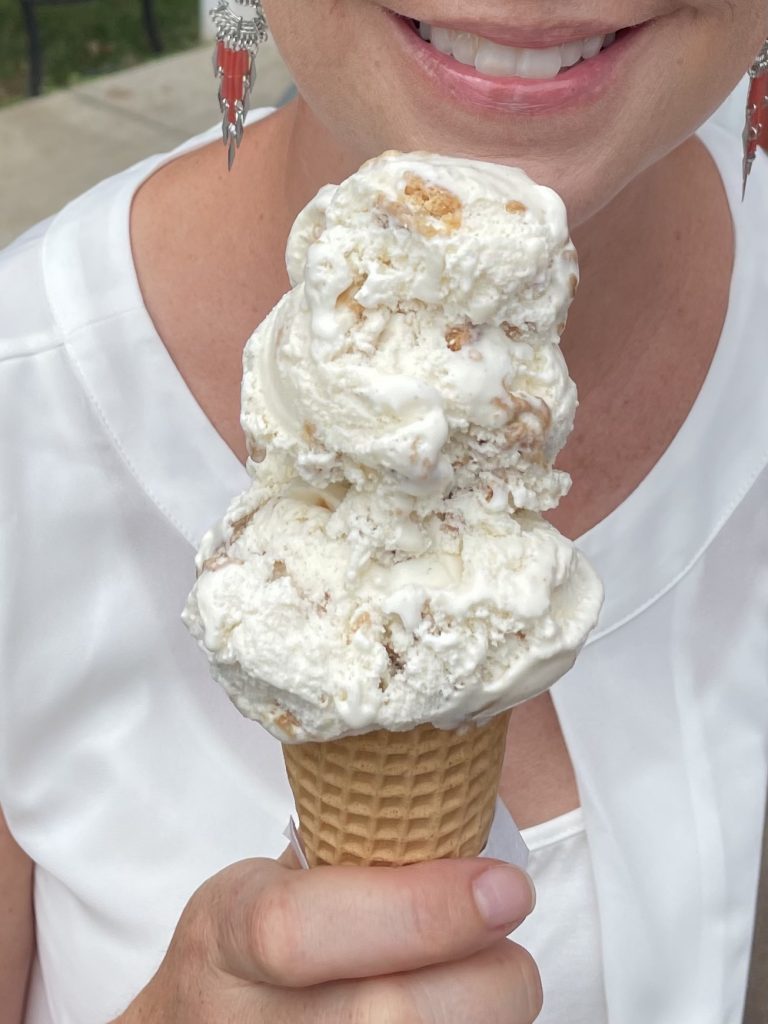 Day 23, Chocolate surprise from another local spot South Mountain creamery.  A sweet friend dropped off this chocolate chunky surprise and it rich goodness even if I'm not sure what was in it.
Day 24, Hazelnut gelato.  Sweet and creamy, and a flavor like no other. Hazelnut gelato always has a piece of my heart after tasting it in Rome a million years ago.
Day 25, White Chocolate Raspberry chip by Tillamook.  Raspberry and chocolate is always a yummy pair in a sweet white chocolate ice cream its worth a taste.
Day 26, Java chip. It just called me that day – is Java really any different than mocha? Not really. But I loved every bite.
Day 27, Jimmie Cone.  The taste of my childhood! A soft serve chocolate vanilla twist with rainbow jimmies.  Happy memories in every bite.
Day 28, Brownie Caramel Swirl. Says it all.  I used to treat myself to Coldstone creamery sweet cream ice cream with a brownie mix in.  This was very similar and a perfect mix.
Day 29, Vanilla.  Some people find vanilla boring.  Classic misunderstood as boring, sometimes a creamy vanilla hits the spot.
Day 30, Coffee Cake.  This cinnamon ice cream with tiny pieces of soft baked goodness.  You could almost eat it for breakfast.
Day 31, Mediterranean Mint Gelato. A spicy creamy green mint with perfect chocolaty crunch. Gelato is always a joy to eat.
I loved 31 Days of different flavors, and so did my family. It might become an August tradition.
While Mint Chip will always have my heart – lemon, strawberry, and coffee delights were worth fight for the last scoop.